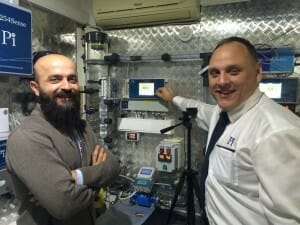 During his most recent visit to Thermomed in Istanbul, Turkey, Pi's Managing Director Mike Riding was given a tour of Thermomed's demonstration lab.
Pi is proud to work together with Thermomed with many successful installations including the Turkish Ministry's Environmental Improvement Scheme, introduced five years ago to ensure consistent effluent monitoring from Turkish Municipal and industrial treatment works.
"We have been working with Thermomed for a number of years and it is a pleasure." said Mike on his return from Istanbul. "Thermomed are an extremely professional organisation and they provide fantastic application advice and customer support to all of Pi's customers in Turkey."
During this visit additional training was provided for the experienced Thermomed staff on Pi's products, such as suspended solids monitor, conductivity meter and dissolved oxygen monitor.
To get more information about Pi's work in Turkey under the Turkish Ministry Environmental Improvement Scheme visit our website. For information of Pi's products or to request a quote give us a call today.