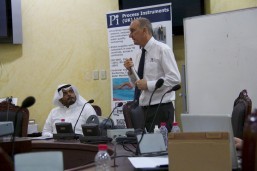 Alan presenting Pi's products
In October, Alan Burns from Pi's technical sales team visited Dammam, Saudi Arabia to meet a new distributor for the Middle East.
Pi's Visit to Hazco
During his visit, Alan not only took part in a 2 day training session for 40 people with the HAZCO team, but also helped with a seminar for the Ministry of Environment, Water, and Agriculture who run all 134 stations for Water and Sewage Supply in the Eastern Province, Saudi Arabia. The attendance list included a number of other companies, which HAZCO and the Ministry invited.
Alan discussed Pi's full range of products with the attendees, with a particular focus on the dissolved oxygen analyser, pH, turbidity and chlorine monitors. Also, the attendees showed a great deal of interest in Pi's Autoflush, Autoclean and BioSense.
For information about Pi's products and the support that Pi provides to its partners, please visit our website, or if you are based in Saudi Arabia, please visit www.processinstruments-sa.com. To speak to a member of our sales team or to discuss any training needs, please contact us.