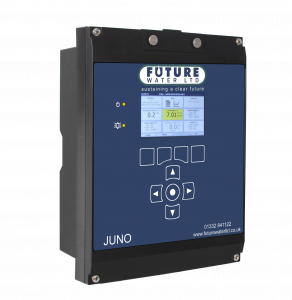 Process Instruments has recently formed a close working relationship with Future Water Ltd, a water treatment company based in Derbyshire and operating across the UK. Future Water specialises in the treatment of drinking water and industrial water systems.
The partnership started in June 2017 when the Directors of Future Water, John Cantwell and Chris Hanlon, contacted Pi looking for high quality instrumentation at an affordable price.
Providing Future Water Ltd with the Best Instrumentation
Since then, Future Water has installed a number of Pi analysers for a variety of water treatment applications, including installations for hospitals and reverse osmosis systems. Pi has provided analysers for measuring parameters such as pH, free/residual chlorine and conductivity. These systems are manufactured with the Future Water branding, adding value beyond the instrument itself.
John Cantwell of Future Water commented "The Pi controllers provide all the functionality we need for our applications and the customer service has been great. Having our own branding on the controllers is also a great advert for our company."
Julius Guth of Pi said "Future Water have an enviable expertise in the water treatment industry, as well as friendly and approachable staff. I am really looking forward to working with Future Water on their upcoming projects."
For more information about Pi's products and the work that it does, please visit the website, or to speak to a member of the Pi team about your application, feel free to contact us.