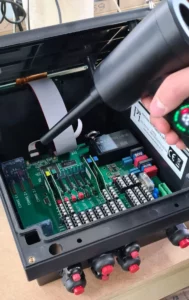 In terms of environmental improvement, it can be the small changes that if everyone made, would make a big different to the environment.
At Pi we're making big changes and little ones, all of them to be celebrated!
For example, this month the work to put >100 Photovoltaic panels on the roof at Pi begins (which is anticipated to reduce our electricity usage by 100%!).
In another example, Pi has replaced Styrofoam packing materials with recycled cardboard which is shredded here on-site reducing our plastic packaging usage by 90%
And the smallest change that we are celebrating today will take us another small step towards carbon neutrality, a stated strategic objective.
When we carefully hand assemble each CRIUS ®4.0 and CRONOS we 'blow out' the electronics to make sure that there is no swarf or dust in the analyser box…all part of our stringent quality procedures. Until recently it was done using butane powered aerosol cans of compressed air, all of which were disposed of carefully, but all of which are single use and added to our greenhouse gas emissions.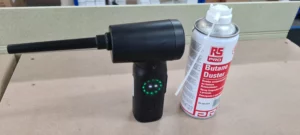 From 1st of April 2023 Pi will be using handheld blowers to perform the same function. Initially these tools have a high carbon footprint in comparison to the disposable cans, but over time as they are used again and again, that carbon footprint will be lower and lower and will be far below that of that the disposable cans within a few months. This isn't a big step towards carbon neutral, but every little helps!
If you would like to learn more about Pi and its products, please visit: www.processinstruments.co.uk