A visit to EMS (Pi's distributor in Taiwan) saw Dr Rob Paramore, Pi's sales director, demonstrate the use of Pi's solid calibration checks on two installed TurbSense® turbidity meters installed on the post-filter final water on a water treatment plant in Taiwan.
Using the Immuto Lux patented technique whereby the light source is varied every time TurbSense® calculates a turbidity reading, the TurbSense is able to eliminate all drift which means that the TurbSense almost never needs to be calibrated! Regulation in Taiwan (and in most other jurisdictions) requires turbidity meters to be checked regularly so Pi has created a slip on secondary standard which means that checking the sensors can be done in seconds.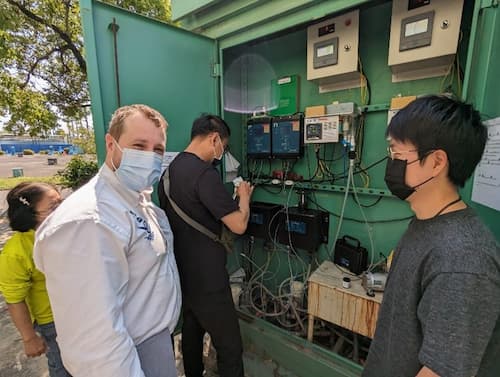 To watch a video of how the TurbSense® works click here
Of his trip to Taiwan Dr Rob Paramore said "The Taiwanese authorities have chosen the TurbSense® as their preferred turbidity measurement device and there are hundreds installed in Taiwan! It was great to visit and see them working so well! I always enjoy demonstrating the secondary turbidity standards as they are so quick and simple to use".
To watch a video of the secondary standard in use, please click here
To download a brochure on TurbSense click here