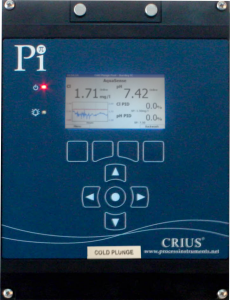 Burnley Football Club is just one of a number of Premier League clubs to choose Process Instruments' CRIUS® AquaSense for water quality control in the HydroWorx® submersed treadmill range.
Working Closely with Rockingham Pools
Process Instruments have been working with Rockingham Pools for over 3 years. During this period, many users of domestic and commercial swimming pools have received luxury facilities with optimum water quality for the best bathing experience. In the last couple of years, Rockingham Pools have become the UK supplier of HydroWorx® underwater treadmill range which is taking the sport rehabilitation industry by storm.
In recent weeks, Rockingham Pools have completed their work on the Burnley Football Club physiotherapy facilities which include two plunge pools and an underwater treadmill system, all of which use Pi's CRIUS® AquaSense to control the water quality.
On completion of the installation at Burnley FC's Gawthorpe training ground, Rockingham Pools Senior Engineer, Shawn Busby said; "Hydrotherapy is of the highest priorities for player fitness and recovery so we could not afford to have an unreliable system. At Burnley FC the Pi controllers provide flexibility, functionality and water chemistry which no other controller on the market can match. With the CRIUS®, we are able to maintain perfect water chemistry on all three hydrotherapy pools by fine tuning the dosing system to match the pools' demands. With the addition of the LAN function, we are able to remotely monitor the pools and react to any issue which may arise, from anywhere in the world."
Pi continues to work with Rockingham Pools to supply other professional football clubs across the UK with the best swimming pool facilities and control instrumentation. If you would like more information about Pi's CRIUS® AquaSense, please click here or to discuss your application with our application specialists, please contact us.