The CoagSense coagulation controller from Pi was recently a huge success at an event held by Pi's China distributor, Fred Fan, for the Jiangxi Province Water Industry Association. Fred was joined by Pi's representative based in China, Chen Jiang, to introduce the CoagSense to over 200 guests.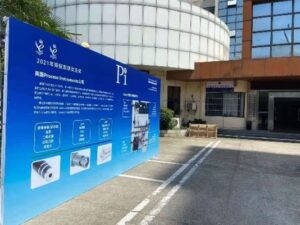 Fred and Chen Jiang fielded several questions regarding the use of a coagulation controller in water treatment and explained the benefits of using a multi-parameter analyser, such as the CoagSense, to the Water Industry professionals in attendance.
CRIUS®4.0 CoagSense has massively improved outcomes on many water treatment plants in Europe
The CoagSense coagulation controller is an integrated controller that accepts multiple inputs from a number of sensors including:
The CRIUS®4.0 CoagSense is revolutionary as it allows a single controller to monitor and automatically control dosing pumps by sending a flow proportional signal direct to those dosing pumps, or to the plant's SCADA. Previously, all of this had to be done by a PLC or SCADA system which involved getting a specialist programmer on site, significantly increasing costs. The CRIUS®4.0 CoagSense means that this can all be done in an affordable manner.
The CoagSense coagulation controller can be used as a coagulation monitor (monitoring an existing system), a coagulation analyser (providing information prior to installing a coagulation control philosophy) or a full scale coagulation controller, either stand alone or via SCADA.
Contact Process Instruments today!
If you are based in China and would like more information about Pi's products, please contact Chen Jiang directly by emailing jiang.chen@processinstruments.cn or giving him a call on 0178166125017. Alternatively, feel free to contact us to discuss your application.