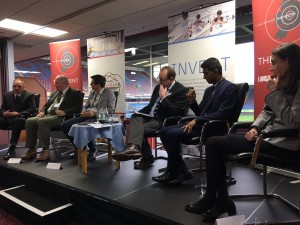 Following Pi's recent success at the Red Rose Awards 2017 when Pi won the Engineering Business Award, Pi's Managing Director Mike Riding was invited to speak on Lancashire Business View's Lancashire Hotspots: Burnley panel.
Discussing Opportunities for Businesses in Burnley
The "Question Time" style panel discussed business in Burnley as a whole and what opportunities are and will be available throughout the town, with a particular focus on skills, investment, ambitions and collaborations. The panel also looked at Burnley's growing digital and creative sector and the innovation shown by its businesses.
Mike said:
"I feel honoured to be asked to be a part of the panel and to represent Burnley businesses. During the discussion on digital industry I especially wanted to get across the point that just because you can… it doesn't mean you should. Burnley businesses are currently booming and I really hope that we can keep up this momentum and make Burnley an even better place to live and work."
From the left, Mike was joined on the panel, held at
Turf Moor
on 4th April 2017, by Tony Grimshaw (
What More UK
), Leon Calverley (
Door4
), Richard Slater (
Lancashire Business View Magazine
), Dharma Kovvuri (
UCLan
) and Kate Ingram (
Burnley Council
). The event, including a Q&A session and a networking session was attended by business leaders and public sector leaders from the town.