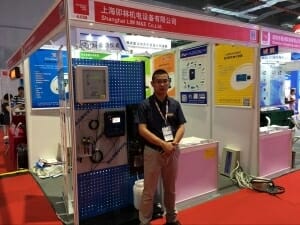 Pi's Shanghai based distributor Shanghai Lim M & E Co. Ltd attended Aquatech China, and exhibited Pi's new controllers and Pi's sensors as a part of their stand.
New controller features
Pi's two new controllers, the Version 3 CRONOS® and CRIUS®, bring an extremely capable set of electronics to the water quality analyser market introducing a number of new features including;
Mobile phone style intuitive navigation,
Proactive maintenance warnings on all sensors,
20 individual security passwords with flexible permissions,
State of the art "group" datalogs for ease of export and analysis in a spreadsheet.
Shanghai Lim M & E Co. Ltd have started supplying Pi's third generation controllers in China, specialising in ozone analysers and pH meters.
The event held over three days from the 15th June, is the largest international water trade show in China for market leaders in the process, drinking and waste water industries.
For more information on Pi's new controllers, please click here. For more information on the projects carried out using Process Instruments analysers, please visit www.processinstruments.co.uk, or give one of our application specialists a call.